MINDFUL & GUIDED MUSIC SESSION
An hour of live electronic music with poetry, samples and invitation to contemplate on questions together.
Behind me – the magnificent ocean of Phu Quoc (Ong Lan Bay). I was jamming with the shoothing sound of Mother Ocean.
The setting was cosy and relaxing – i asked everyone a very personal question, they should write down the answer onto a piece of paper. And then i invited them to let it go in the flame.
Everyone in the audience did it.
i even saw some smiles and some relief.
---
This performance was part of
Tree and Sea Gathering
focuses on connecting with nature through creativity (especially conscious live music) and mindful activities.
Music line-up included
LinhHafornow
with sessions toward mindful connection by Lan Anh and Linh Ha ( l ặ n g )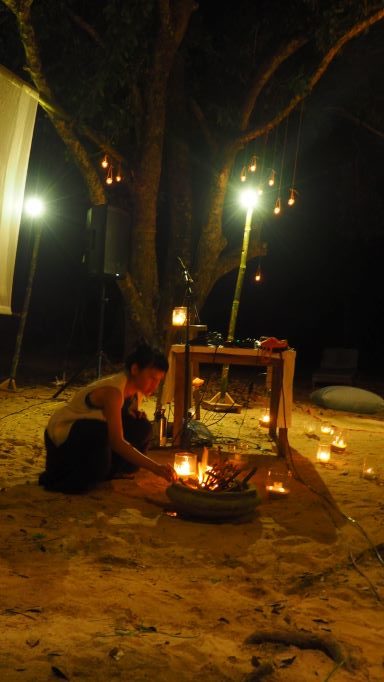 MIXED REALITY PERFORMANCE - THẦM THÌ
part of Art for Environment Hội An
This mixed reality performance was part of "Art for the Environment", organised by the British Embassy in Hanoi, CAB Hoi An and the Culture & Art Base Hoi An, the Association of Quang Nam Tourism. The event took place at Bai Choi, in the Old Quarter of Hoi An.
Alistair Hobson and I had less than a week to prepare for the performance, time was short but we had fun. The whole piece is roughly 40 minutes depicting the rage of nature, questioning the relationship of human and nature (and how humans treat nature) and talking about the role of technology and digistalism in the whole picture.
The event "Art for the environment" in Hoi An was organized to raise awareness about environmental protection, as well as share the UK's experience in climate change adaptation and mitigation in Vietnam. Various activities were held during the event, including an environmental improvisational dance performance entitled "The Dance We Made",  an exhibition on marine animals, film screenings and discussions on the environment, an exhibition on the results of the contest on turning garbage into art works.
FEATURED MIX ON NTS RADIO
Shout-out to Phambinho Cuong and NTS radio for giving me and lots of other Asian artists to share sounds and thoughts!
I was planning on going to London after Glasgow to perform live at NTS station but it all turned sideways and I had to change my flights 3 times to get home in one piece before all borders closed down.

So at home in quarantine 2020 I created a story reflecting some experiences from this journey telling about an alien trying to find their way home – something that probably you had to go through the last year also.
if you want to have a listen – maybe save an hour of your day and put on your headphones – enjoy the trip 😉
This performance at The Glad Cafe in Glasgow marked the beginning of a hibernation of LinhHafornow performing live for a loooong time – due to the COVID pandemic. It marked the beginning of severe lock-downs everywhere. At the time (March 2020), the pandemic hasn't reached Europe… But everyone already started to panic, places started to shut down. It was the last 'live' performance at Glad Cafe for a while.
There were only 7 of us at the venue, including 3 artists – Alex Smoke (UK), Aeger Smoothies (RU) and me, Cryptic staff, Glad Cafe manager and sound engineer.
All of the three performances were live-streamed. It was extremely new to us to perform like that – little did we know that it was going to be the reality of live performing for a while.
VIETNAM TOUR WITH AB SYNDROM (BERLIN)
10 days on tour with AB Syndrom!

We performed in Hanoi (Youth Theater) – Hue (University of Foreign Languages) – Da Nang (Phan Chau Trinh Highschool) – Sai Gon (Live Soul Project).
I even had a press conference at my old university where I used to teach at. (:
During my trip to Korea in 2018, I had the opportunities to meet a few representants of the underground music scene in Seoul. Great venues like Strange Fruit, YOGIGA Gallery really are the safe cradle for all types of artists to meet, exchange and share.
At YOGIGA, I played my first solo set in Korea with the line-up of all female music and visual artists. At the end of the event, everyone shared an hour of deep listening, empathy and gentle strength that could be the virtues of every female individual.
Full performance (in 3 parts)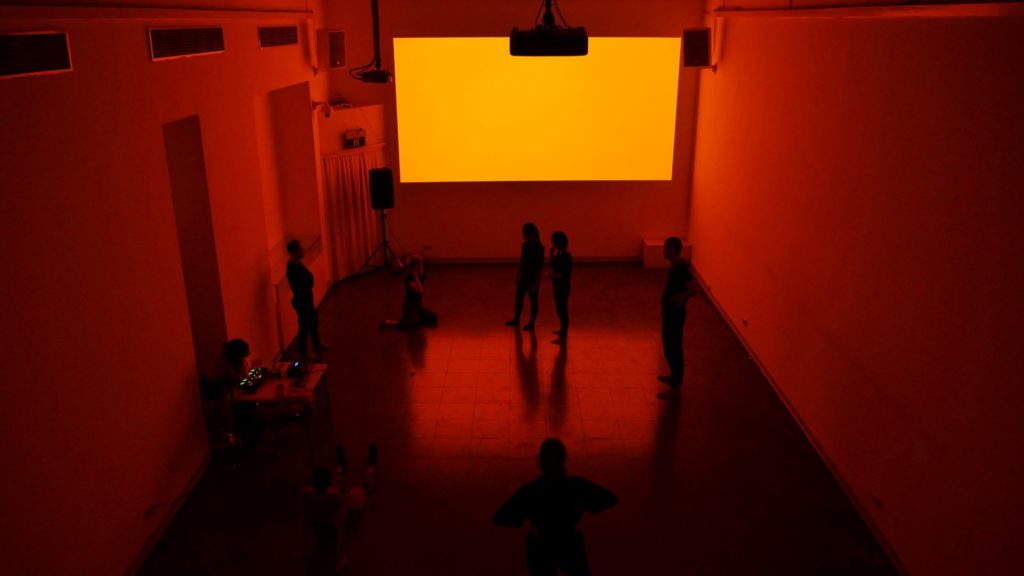 The Challenge of Realism is a dream state where the past collides with the future, merging into a new realm of knowledge. Exploring how the human body interacts with non-living and living objects, our perceptions of time, and some loss of control over it.




The research project explores the gestures of the past and cultural appropriation, considering these elements' influence on contemporary movement. Mass-tourism, interpretations of stigmatic ideals, and images of an ego generation will fuse into a
new perspective on current society.




After having previously collaborated on two performance project, Transcultural Protocol and Olympia lead by Rachel Monosov, the trio took the opportunity to bring their collaboration even further, building for the first time a collective piece. This project aims to confront each artist to their own research methods and beliefs, by generating a stimulating space for reflection and creativity.




Challenge of Realism meets all artists' desire to join a universal and interdisciplinary artistic network, to overcome our current political systems based on power, territorial belonging and stigmatisation, and to generate a wide creative
platform of expression.
SYNESCAPE: LIVE PERFORMANCE
The Synescape (synesthetic / landscape) projects were interactive audio-visual installations held Hanoi, Vietnam.
The live performance edition of synescape was presented in an art studio-cum-cafe Tình Đầu/Quán Cầm as part of the creative complex 60S Tho Quan in Hanoi, and was an introductory event for its sister; synescape: please touch.
The audience were sitting facing five suspended panels on which black painted triggers were outlined. During the performance I freely 'played' the painted panels to trigger my own pre recorded vocal phrases to an improvised backing score, and projection mapped visuals from Alistair Hobson and collaborators 2nanas respectively. As a performer I incorporated different movements to interact with the conductive painted screens as well as contributed to the sonic palette with my selection of indigenous instruments. The performance followed a narrative of journeying from the depths of the Vietnamese countryside to the heart of hectic Hanoi and back, which provided the arc for my routine to progress.
It was a great honor to be able to collaborate with so many talented artists on this project. Musicians, sound designers, artists, projection mappers all bound together by a fascinating, concept-driven immersive experience which was produced by 2nanas.
Two rooms, two installations: Room 1's acoustic sound sources transmitted to and processed digitally in room 2. This transmission represents the way much of the information we encounter in daily life has somehow been digitally affected and re-presented to us in a altered form.
I and Numbfoot along with Ty Ba lute artist Thu Thuy and Hai Duy on drums performed in room 1. For a few hours of each performing day we used
improvisational sound generating techniques to develope a soundscape that resonates with the on-the-spot atmosphere and environment. The nature of the performance as a whole means that no two slots would ever sound the same.
—–
words from 2nanas:
'intransmission' is a series of experimental multidisciplinary live art shows. The format of the show consists of two separate spaces with analogous interactive installations, which audiences visit one after the other. Different sensory elements from Space 1 find their way into Space 2, creating a distorted version of whatever is happening in Space 1.
'intransmission' Hanoi uses digitalization as its medium of distortion.
 Both audio and video material recorded in Space 1 was processed, distorted and live-streamed, thus creating the artistic content for Space 2.
The real-world element around which the distortion revolves and evolves into its self-made element during 'intransmission Hanoi' is a tree. The tree in its significance represents a bridge between realms, exploring the dual role of nature in a modern, urbanized world – both becoming an essential part of urban planning, and fighting for its natural survival among ever expanding urban jungles.
KIM GWA LEE - CHÀ LAN (VIETNAMESE-KOREAN BAND)
I joined a Korean-Vietnamese grunge rock band once.
Chà Lan (grunge rock, KR-VN) was born out of taking risks, experimenting and having laughs/being silly.
It was part of a collaborative project #com( ) by Six Space (Hanoi) and Barim (Gwangju).
Cha Lan comprises of Trang Chuoi (Limebocx), me and three original members of Kim Gwa Lee.
Through online tools (Skype, Google Excel) we put together 5 songs with lyrical translations into Vietnamese of Kim Gwa Lee's original Korean songs and reconstructed musical compositions. With only 3 days of (face-to-face) rehearsals, we performed twice in Hanoi. One at DeN (at a hardcore show) and one at Hanoi Rock City.

The band only lasted for a short while. But the main thing was we had a lot of fun going through the process of translating, practicing and overcoming geographical-cultural challenges.
In the very beginning of my journey of looking for my sounds, i joined Brett Zweiman every week on a musical voyage into the unknown –
that is audiOhm.
For about 1.5 years (2015-2017), every Wednesday at the Hanoi Social Club we have a jam session where people can come to meditate, to dream, to sleep to,
to draw to.
I also led a gathering – spirit dance – an
event where anyone can come and express their body movements freely to
live music.
Dive into some live recordings of audiOhm sessions.