SILHOUETTE | HÌNH BÓNG
audio-visual collaboration with Glasgow-based visual artist Heather Lander (US)
premiered in autumn 2021 — a project about reconnecting with oneself while reconnecting with others and collectively exploring the concept/process of healing
this project is generously supported by
British Council: Connections Through Culture UK-SEA 2020

#dchmvrbndngcnnctn – AGF poemproducer & Linh Ha

DẤU CHẤM – CONNECTION – VERBINDUNG
A story about histories encountered and shared collective memories in hope for solidarity.
#AGFpoemproducer and I met during a 2019 residency – Blind Signal. Through hours of talks and music and improvisation and wandering, we figured out that we have deeper connections than we thought.
These shared histories and stories are the foundations of #dchmvrbndngcnnctn – also part of REconnect by #goetheinstitut Hanoi.
Due to the recent pandemic – connecting in a conventional sense has been challenged. We found multiple ways to reach out – listen – share. It was not easy, but I'm proud of what we have achieved so far.
The results of this 4 month collaboration could be experienced through two forms – a live performance and an archived video.
The live performance happened on July 3, 2021 at Goethe Institut Hanoi, also livestreamed through their FB page (
link
). It was a hybrid performance with an edited video from
AGF
and me performing live vocals, electronic compositions and movements.
CRYPTIC RESIDENCY 2020 @ COVE PARK, SCOTLAND
My last trip outside of Vietnam before the pandemic hit the world. Such a trip!
I'd never been in the UK before and getting to know a bit of Scotland opened my eyes. The time spending in Cove Park was a life changing experience. In the sense that I needed that space (also head space) in that exact moment. Waking up to the breathtaking view and surrounding every day is a healing blessing – I did so much for my creative process as well as my physical and mental health. The time here also taught me the beauty and the power of nature – nature can be gentle and loving but nature is also brutal and can be full of rage. It taught me to be grateful, especially in this time of uncertainty.
Thanks to the generous support of Cryptic (Glasgow) and British Council I was able to connect with many fellow resident artists in Cove Park Residency Program in 2020 – from whom I learned a lot and share great memories – Kathy Hinde (UK), Paula Guersenzvaig (AR), Aeger Smoothie (RUS), Heather Lander (US), Myriam Boucher (CA), and many more.

I spent most of my time at Cove to develop the concept for my debut EP which focuses around the concept of 'Garden'. This time and space opened my eyes to how I react with the surrounding, my relationship with nature, human interactions (the dynamic of how all the residency artists interacted with each other), how to make the most out of the residency time despite the uncertainty and distractions of the pandemic and also, how to be less self-critical when there was a lack of inspiration or motivation.

ꚙ•⃝◌
BLINDSIGNAL - VTNM_GRMN// VTNM_GRMN 2019
Blind Signal VTNM — GRMN // GRMN — VTNM aims to investigate the diversities and wide range of sonic practice through creations with multiple geographies.

The project spans over roughly a year with two phases / two stops: Hà Nội & Berlin.
꙱ Hà Nội
Antye Greie-Ripatti aka AGF aka Poemproducer, Gil Delindro, Hương DonNa, Julius Holtz, Lương Huệ Trinh, and I were challenged by a week of collective work and workshops.
After this week of intensive residency (April 2019), a performance was presented at Goethe-Institut Hanoi. (Audio) I also presented a workshop with the focus on interactive collective sound reception as a conversation among us D (u) o i (FB event).
It was not an easy task for all of us taking in consideration the challenges of different cultural backgrounds, diverse ideologies, individual complexities and artistic identity among six artists. But we were somewhat willing to create a common ground in the connection through sonic arts and cultural openness.
Through #sonicwilderness – an initiative by AGF – we had the opportunities to bond with nature and the local community. treeing
We also went to Huong Donna's hometown to collect sounds and learn about stories. The sounds and footage were edited into a video by AGF, which was shown in Berlin and to which we played live sounds to in Hanoi.

This project is supported by the Goethe Institute of Hanoi and the French Alliance Hanoi & in collaboration with Undecided Productions.
꙱ Berlin

AGF poemproducer aka Antye Greie, Audrey Chen, Hương DonNa, Sabine Ercklentz, Julius Holtz, Lương Huệ Trinh, Erik K Skodvin, Els Vandeweyer and I had in total five days of residency. We had three days to explore, research, understand (or not), suggest, — basically get to know each other artistically and on a human level.
Again – not an easy task as we had more artists and less time. We were all overwhelmed by so many factors! All the ones that came with the first residency and on top of that we spent the week at a uniquely sonic space of the historical Kleiner Wasserspeicher (dated back in the 1800s) in Prenzlauer Berg. The results of the time were manifested in a three-hour sonic performance. (Audio)
The second edition is supported by die Beauftragte der Bundesregierung für Kultur und Medien – Musikfonds, Asia-Europe Foundation and Prince Claus Mobility Fund.
ꚙ◌•⃝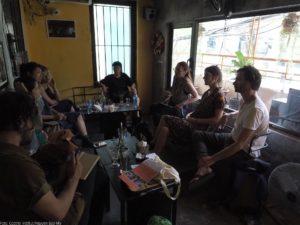 FAMLAB FUNDS - BRITISH COUNCIL
FAMLAB (Film–Archive–Music Lab) strand of Heritage of Future Past, a Cultural Heritage for Inclusive Growth project in Vietnam is an initiate by the British Council. Over the years this program has helped bridging connections between peoples and cultures.
In June 2019, a music residency brought to Hoi An (Vietnam) more than 40 musicians from a diverse spectrum of practices, ethnicities and geographies. At a point we counted around 105 different instruments being used on stage for performing: bagpipes, t'rung, k'ni, cello, gongs, electronics, cham drums, harp, the list goes on.

Over 20 days of living/eating/laughing/crying together, music and sharing an outdoor concert was culminated by the river of Han (Hoi An) in front of more than 400 audience. It was a great achievement to bring master musicians from all over Vietnam with different ethnic backgrounds and cultures (Jrai, Ede, Muong, Tay, Cham), 3 Scot traditional musicians and other international artists to the ancient town of Hoi An.

This project was a collaboration of Lune Production, Phu Sa Lab and FAMLAB.
Documentary // Concert video // Photos // A blog post by Bryan Wilson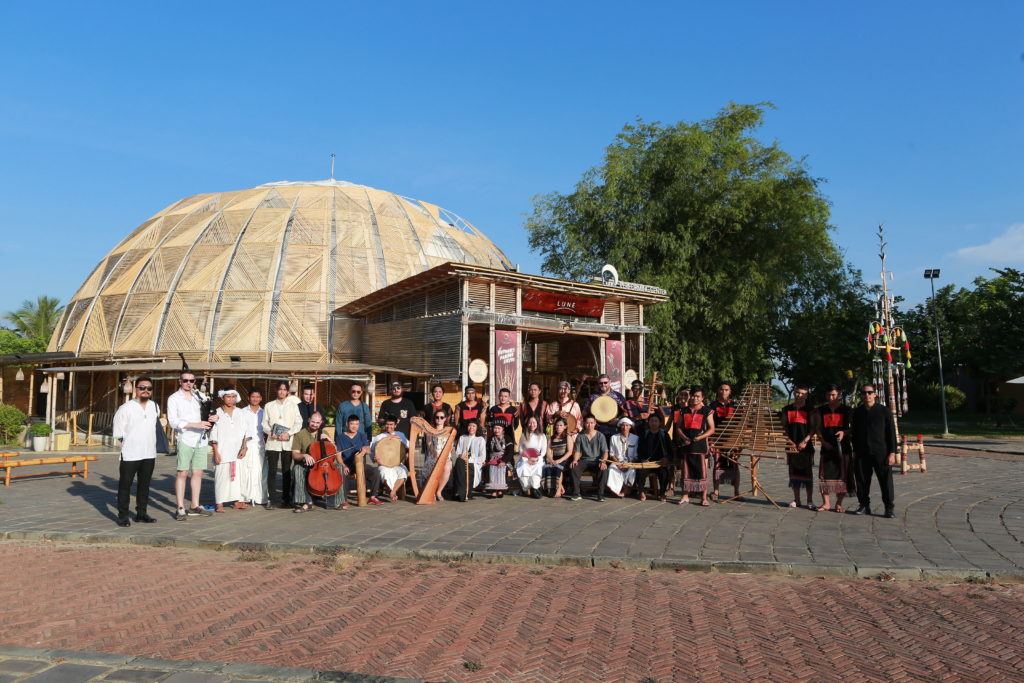 FAMLAB OPEN SESSION:
Chém gió mở
Over the course of 10 days, eight Vietnam-based contemporary musicians spent collaborating, exchanging and working on ideas together at Phu Sa Lab, within the framework of the recent and highly-acclaimed Chem Gio concert – a musical dialogue between traditional and Western wind instruments, developed and originally performed by Nguyen Duc Minh, Quyen Thien Dac and the Dan Do Group.
This was an interesting experiment for all of us 13 musicians with a diverse assortment of musical instruments from the North West, Central Highlands and South Central regions of Vietnam, as well as cello, guitars, drums, objects, electronics, Đàn Nguyệt (moon lute), among many others.
This project also gave me the first opportunity to work with Dan Do Group and through conversations somehow get to know their journey of preserving the spirit and heritage of Vietnamese traditional music & culture as well as innovating the sounds and combining with contemporary practices.
The initiative took place in the provinces of Gia Lai and Ninh Thuận in August 2018, with participation of seven artists (five musicians, one film-maker and one visual artist) who learned about the music of each locality (Bahnar gong music and Cham ritual music, respectively) and the wider social context.
The things that I will always remember from this trip
are the smiles and being at ease in nature.